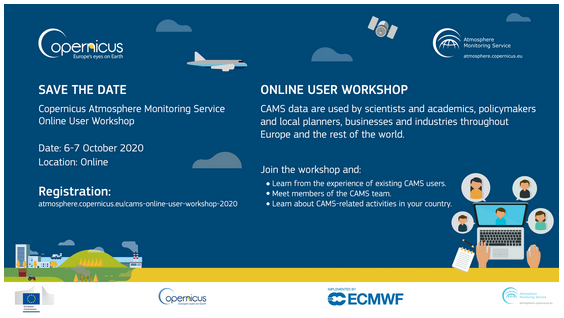 The Copernicus Atmosphere Monitoring Service (CAMS), in collaboration with the Copernicus National User Forum, the Istituto Superiore per la Protezione a la Ricerca Ambientale and the Regione Emilia-Romagna has planned a two-day online user workshop for existing and potential users of CAMS on the mornings of the 6 and 7 October 2020.
TerrAria will present UTAQ use-case on the morning of 6 October, in the session "CAMS-related activities in Italy/show cases part 1", the speech will be titled "Italian downstream case UTAQ"
The CAMS user workshops are an opportunity to learn from the experience of existing CAMS users and hear how they apply the data to their work, meet members of the CAMS team, learn about CAMS-related activities in your country, and interact directly with advanced and new users of CAMS products. CAMS data are already being used by scientists and academics, policymakers and local planners, as well as business and industry throughout Europe and even world-wide.
Further details about registration and agenda will be published in due time on this link.
Please kindly communicate participation at the email address: copernicusufn@isprambiente.it