HOW CLEAN IS THE
AIR YOU BREATHE?
About UTAQ: a CAMS use-case
UTAQ helps to prevent exposure to pollution peak for "sensitive" citizens (children, asthmatics…) by providing them with the spatial and temporal variation of air quality is based on their location (via GPS) or desired path (to discover the least polluted trip…).
Enjoy UTAQ public version to see air quality in your position.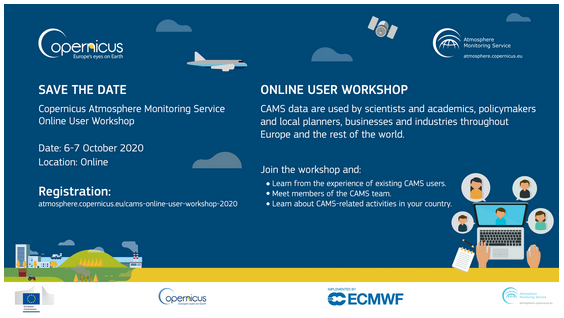 The Workshop will be online on on the mornings of 6 and 7 October 2020 and UTAQ will be presented on 6 October
THE TEAM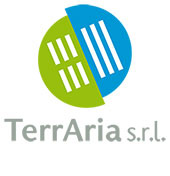 TerrAria is an Innovative PMI (certified by the chamber of commerce) and was born in 1999 in Milan by the experience of a working group committed to the development of an innovative territorial-environmental information system capable of supporting the decision-maker in his planning function. TerrAria now counts on the contribution of a close-knit and multi-disciplinary team with an articulated know-how: computer scientists, physicists, planners and environmental and energy engineers.
UTAQ ABSTRACT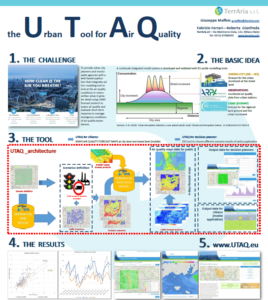 UTAQ (Urban Tool for Air Quality) is a European project funded ECMWF (European Centre for Medium-Range Weather Forecasts) by a CAMS tender (Copernicus Atmosphere Monitoring Service). UTAQ (Urban Tool for Air Quality) is a Web application that allows to analyse current and forecasted air quality on an urban scale at high resolution (10-50 m). On the one hand UTAQ allows citizens, municipal technicians and epidemiologists to evaluate and then to limit air quality exposition thanks to the GPS position, on the other hand it allows urban planners and decisions makers to evaluate the impact of fleet and traffic limitations to manage emergency conditions of air quality exceedances.
DOWNLOAD PDF
UTAQ PROMOTIONAL MATERIAL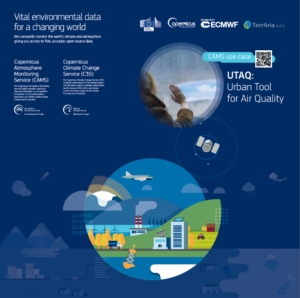 On the occasion of participation in ecomondo and to obtain informative and evocative material on UTAQ, an explanatory brochure and a poster used as a totem at the ECOMONDO stand were produced during the 18 months of the project.
From this page you can download both.